Giveaway for Organic Toddler Finger Foods from Sprout Organic Foods!
Today I'm offering my readers a terrific giveaway for organic toddler finger foods from Sprout Organic Foods! You can enter to win the Sprout Toddler Snacks Prize Pack giveaway, which includes all four flavors of the Fruit and Veggie Crispy Chews and Fruity Yogurt Bites!  You'll win 8 sample packs in total!  This is a great opportunity to try these delicious organic toddler finger foods for yourself!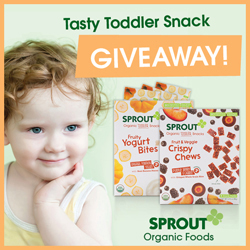 I was so excited to get this opportunity to try these!  Troy has become quite a picky eater since he entered toddler-hood, and getting him to eat anything that isn't a dull brown color is almost impossible.  He loved these organic toddler finger foods from Sprout Organic Foods though!  Here he is trying them for himself!
He was a happy camper – and I was happy that something I'd fed him ended up in his tummy, and not all over the floor!  Now that I've gotten to try these for myself, I'll definitely pick them up the next time I'm in the store!
You can win these for your kids too!  Enter to win below!
#spon: I'm required to disclose a relationship between our site and Sprout Foods. This could include the Sprout Foods providing us w/ content, product, access or other forms of payment. Check out the new Sprout Foods website at www.sproutorganicfoods.com.